Latest News
The Water Division congratulates Laboratory Director, Jim Kopp 2023 Recipient of the Operator's Meritorious Service Award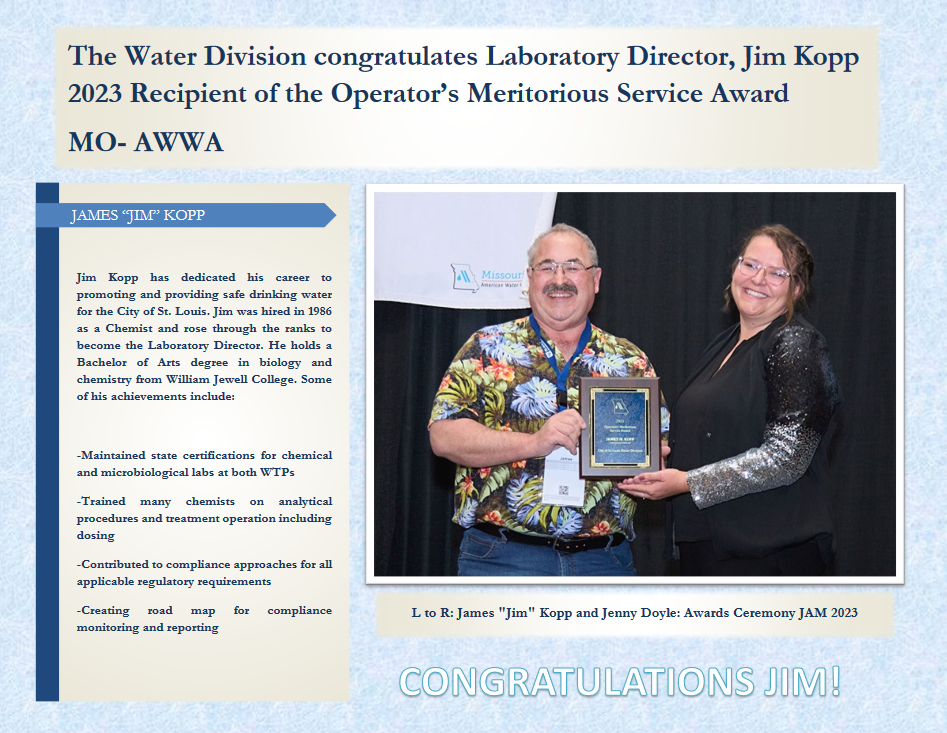 The Water Division is Hiring!
The Water Division has immediate job openings for the following positions:
Carpenter, Chemist I, Civil Engineer II, Construction Equipment Operator I , Construction Equipment Operator II, Electronic Control Systems Technician, Heavy Equipment Operator I, Heavy Equipment Operator II, Programmer Analyst I, Stationary Engineer, Utility Locator, Water Maintenance Technician, Water Maintenance Foreman, Water Meter Worker, Water Plant Maintenance Mechanic, Water Treatment Plant Operator
Apply here:
https://www.stlouis-mo.gov/government/departments/personnel/jobs/index.cfm
Emergency Bill Pay Assistance
6/14/2021
City of St. Louis residents who have fallen behind on paying their water bill and have suffered financial hardship due to the COVID-19 pandemic can now apply for financial assistance from a new pool of funds. Please see the following website for more information:
https://www.stlwater.com/assistance
...