Latest News
Rate Increase Information
For the first time in 13 years, the City of St. Louis Board of Aldermen approved an initial 20% increase in the water rate charges. The first $5 average monthly increase is effective July 1, 2023, with a second $5 average monthly increase in January 2024. This will provide the revenue necessary to sustain the maintenance and operation of the City's water system, repairing main breaks and ensuring residents have access to the safe, clean water they rely on.
This effort will also allow the Water Division to replenish the reserves necessary to make long-term investments in our infrastructure. St. Louisans will continue to pay less on average for water than residents of St. Louis County or Kansas City.
The Collector of Revenue's office remains committed to collecting and administering your payments carefully and efficiently, as prescribed by law. If you have any questions about the payment options available to you, please do not hesitate to contact our office at 314-622-3628. For billing questions, please contact the Water Division at 314-771-2255.
2023 Operator's Meritorious Service Award Winner Jim Kopp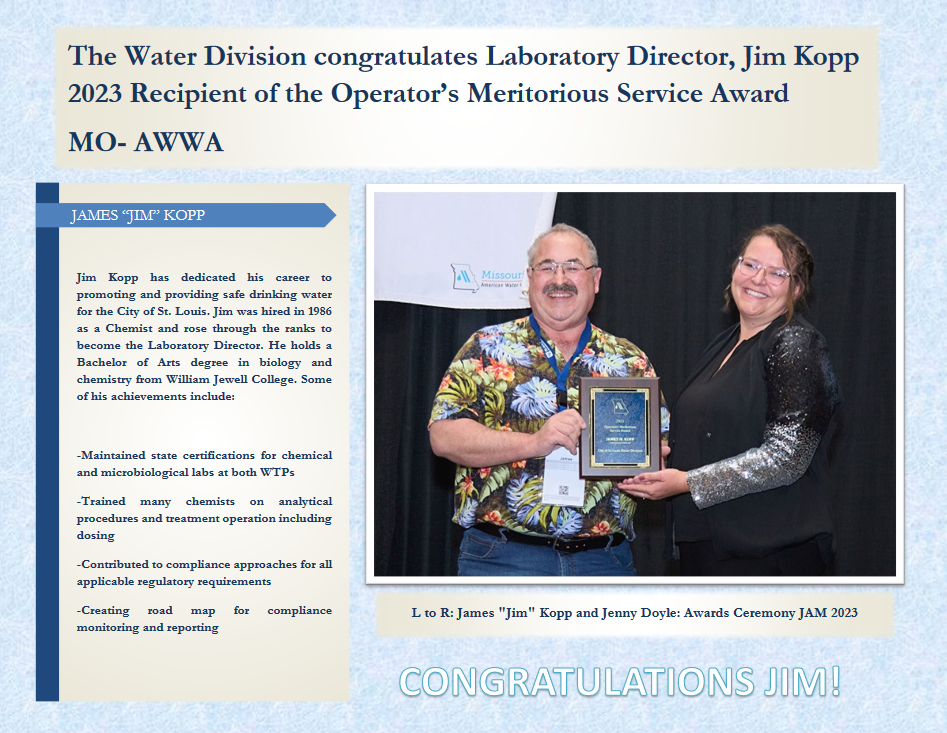 The Water Division is Hiring!
The Water Division has immediate job openings for the following positions:
Carpenter, Chemist I, Civil Engineer II, Construction Equipment Operator I , Construction Equipment Operator II, Electronic Control Systems Technician, Heavy Equipment Operator I, Heavy Equipment Operator II, Programmer Analyst I, Stationary Engineer, Utility Locator, Water Maintenance Technician, Water Maintenance Foreman, Water Meter Worker, Water Plant Maintenance Mechanic, Water Treatment Plant Operator
Apply here:
https://www.stlouis-mo.gov/government/departments/personnel/jobs/index.cfm