Lead Pipes in Your Home
The Water Division is responsible for the treatment and distribution of safe drinking water within our network of underground water mains. Once the water flows from the water main in the street to our customers' service connections, it's safe delivery becomes the customer's responsibility. As the service line is owned and maintained by the property owner, it is their responsibility to repair faulty plumbing that connects the water mains to the home as well as the plumbing inside the home.
There are homes in the City of Saint Louis that may have a water service line (the pipe running from the water main to the home) that is made of lead. Inferior plumbing and fixtures inside the home may also contain lead. Replacing an older brass faucet or valve may be a simple way to reduce the lead.
The following Diagram illustrates a typical water service from water main to home: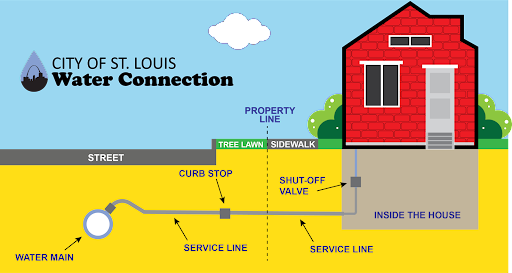 To find out if your water service line is made of lead, follow these steps or use the How-To Identify Your Service Line Material Guide (PDF): How-To Identify Your Water Service Line Material.pdf
Find the water shut-off valve in your basement. Look at the pipe that comes through the outside wall of your home and connects to your home's shut-off valve.
If the pipe is painted, use sandpaper to expose the metal. Carefully scratch the metal pipe (like you would a lottery ticket) with a key or a coin. Do not use a knife or other sharp tool. Take care not to make a hole in the pipe. If the scratch turns a shiny silver color, it could be lead or steel.
To determine if the pipe is lead or steel, get a strong refrigerator magnet. Place the magnet on the pipe. If a magnet sticks, it is a steel pipe.
You can also buy a lead test kit at a hardware or home improvement store. These kits are used to test what the pipe is made from—not the water inside. Look for an EPA-recognized kit.
What If I Have Lead Pipes?
Having a lead service line does not mean your home's water has high levels of lead. Corrosion control treatment, performed in The City of Saint Louis for more than 20 years, has been shown to be effective in keeping lead levels in customers' homes below the U.S. Environmental Protection Agency (EPA) standard of fifteen parts per billion (15ppb).
In addition to replacing lead pipes and plumbing, there are immediate steps you can take to reduce the chances of lead exposure related to water use, such as flushing your tap when using it for drinking or cooking if your water has been sitting idle for several hours.
Get Your Water Tested
The Water Division conducts regular sampling and testing of lead service lines. To volunteer for our lead sampling and testing program, please email lcrsamples@stlwater.com
Report A Lead Service Line in Your Home
The Water Division is currently updating inventory records of all service lines. If you would like to report your service line material type, please follow this How-To Guide to help determine if you have a lead service line. To report your service line material type, please click HERE. Additionally, you may email a photo of your service line to LCRphotos@stlwater.com. Please include your name, address, and a phone number you can be reached at.