Curtis B. Skouby, P.E.
Director of Public Utilities

Curtis B. Skouby, P.E.
Water Commissioner

City of St. Louis Water Division
Dept. of Public Utilities
1640 S. Kingshighway
St. Louis, MO 63110

(314) 633-9000


Click Here for Directions
The Chain of Rocks Plant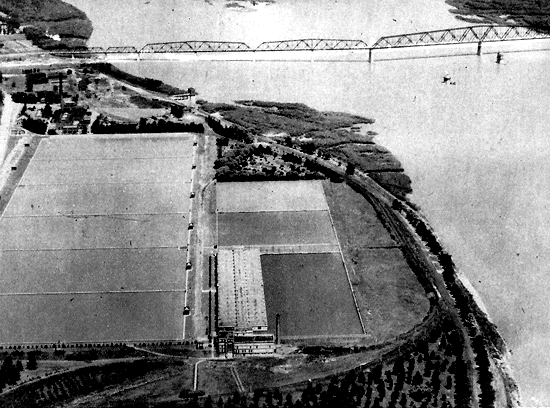 Located on the Mississippi River about 11 miles north of downtown St. Louis and five miles south of the confluence of the Missouri and Mississippi Rivers, the Chain of Rocks Water Treatment Facility is presently the largest treatment facility in St. Louis. With its ten high service pumps, the plant is capable of pumping 450 million gallons per day. The location and plant get their names from a large shoal, or rocky rapids, which made that stretch of the Mississippi extremely dangerous to navigate. Because of the low-water dam built by the Corps of Engineers in the 1960's, little of the Chain of Rocks is visible today except during extreme low water conditions.

The Chain of Rocks had been chosen as a site for St. Louis waterworks by James Kirkwood in 1865. However, Kirkwood's plan was initially rejected, and construction on the Chain of Rocks Plant did not begin until 1887. It opened in 1894. The designer of Chain of Rocks was Minard Holman, who functioned as the first chief engineer of the plant and later became the city's Water Commissioner. Chain of Rocks was originally built as a low service pumping facility in which water was taken from single channel intake in the Mississippi to low service steam pumps, and finally into a series of sedimentation basins. After the muddy sediment settled to the bottom of the basins, the water flowed by gravity through an aquaduct to the high service station at Bissells Point, seven and a half miles toward the center of the city. From this point the water was distributed throughout the piping system and to consumers throughout the city.

Since its initial construction, Chain of Rocks has gone through constant additions and modifications. The Chain of Rcks Plant was the first large water treatment facility to use lime softening and ferrous sulfate in the water purification process. The Chain of Rocks filter plant was built in 1915, and was realized to be the largest filter plant in the world at the time of its construction. It contains 40 filters and stretches 700 feet in length. High service pumping facilities were built in 1957 as a result of plans to close the Bissells Point Plant. This addition allowed Chain of Rocks to function as an independent facility, and was no longer dependent on another plant to distribute its water. In 1958, the self-contained steam power at Chain of Rocks was replaced by an electric system. A new Coagulant House, able to safely store all chemical additives, was built in 1960.

The Flood of 1993 did not stop service at Chain of Rocks. The plant continued functioning normally, allowing for steady, dependent service throughout the disaster.

Improvements continue on a constant basis at Chain of Rocks. In 1997, the construction of new basins and a new chlorine facility began. Both projects are expected to be finished within the year.



Return to History